Three separate research teams were involved in the yearlong project as they set out to interview children of mixed couples between the ages of 20 to 40 from France, the Netherlands and Germany. The result is a unique portrait depicting the thoughts, experiences, fears and longings of European young adults born to mixed couples.
Mixed marriages and their offspring are a reality that European Jewish communities are grappling with today. The ramifications are wide and touch upon a variety of aspects such as: Jewish continuity, demographic projections and inclusiveness. We see these studies as a contribution to the ongoing dialogue on this issue.
Even if each country presents its own specificities, among our key findings are:
Even if the Jewish parents of children born out of mixed marriages "opted out" from Judaism, they never entirely disconnect from it.
The children born out of mixed marriages who grew up in a Jewish household or who have been affiliated to Jewish institutions tend to develop stronger Jewish identities.
Although significant differences exist between children with a Jewish mother and children with a Jewish father, in some cases their psychology is similar.
Far from being passive, most of the interviewees who seek to be connected to Judaism demonstrate a very active attitude towards the search for a suitable Jewish environment; one that can assure them both legitimacy and acceptance.
All three reports (France, Netherlands and Germany) are available for download. Each report has been published in both the mother tongue and in English.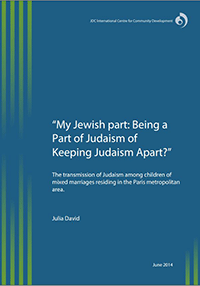 Date: November 2014
Author: Julia David (France); Julia Bernstein (Germany); Barbara Tanenbaum & Riki Kooyman (Netherlands)
Nº of pages: 23; 45; 45
Download Files